You've finally found the home of your dreams in the Florida Keys, but you want to make a few changes to the yard – where to start? Or, perhaps you've lived in the Keys for years, and have noticed that your aging yard is in need of a refresh. We've got tips that will help any homeowner create something inspiring – an oasis where you and your family can relax and make memories together.

Below, you'll find some creative and practical Florida landscaping ideas to help you get started. With a little effort, you can create a tropical paradise that's equally perfect for moments of quiet reflection and for hosting a fun get-together with friends. As a resident of the balmy Florida Keys, your outdoor space has the potential to be the best part of your home. Let's make the most of it!
Helpful Tips
If you're lucky, maybe your backyard merely needs some touching up or special attention before you consider serious changes. Here are some helpful tips to keep in mind before you start on the exciting project of reinventing your yard.

First, make sure to fully account for the costs of your project and know what your budget is for landscaping. These factors include the species of plants you choose, whether you want to put in a pathway, maintenance, and so on. Before you start, have an overall estimate of how much you're planning to spend, and build in some room to breathe - consider a 5-10% contingency. It's completely normal for home, garden, and landscaping projects to go over budget.

Second, you'll want to have a clear design. What's the picture that comes to mind when you think about your ideal front or back yard? Do you want elegant, trendy, easy to take care of? What are the colors you want to focus on? Whatever features you wish to include, be mindful of becoming too aspirational and ground your plans in what best fits your family's current lifestyle. If your meat-loving family routinely kills houseplants, hold off on the charming vegetable garden and get an outdoor grill instead.
Backyard
Now's the time to put in some extra sparkle and make your backyard your favorite spot in your home! A beautiful yard can host a barbeque with friends, a birthday party, or a baby shower - really any occasion. So the question stands: where to begin? Deciding where to start can be overwhelming, so follow our tips below.

First, you need to determine a budget and vision for your yard. If you're unsure, consider picking a non-aesthetic priority to narrow your options - for example, water-saving features are good for the planet and an easy focus for a design. Instead of grass, how about combining rocks and plants to create a gorgeous aesthetic? Rock features are fairly easy to maintain and have a timeless look. Your plant beds can surround your property or you can put them directly in the middle, like an island in your yard.

Second, to make your landscaping simple, stick with plants that are native to Florida. Because they're accustomed to the climate and will probably be sourced locally, they'll have a much better chance at thriving. Plants from other regions can be more challenging to nurture and may even become invasive. With beautiful options like passionflower, hibiscus, and southern magnolia, native plants are an easy pick.
Front Yard
Designers use what they've got, so review your front yard's landscape before committing to a design – it will shape the general idea of the look you want to make. What plants, flowers, and colors already exist that can contribute to your vision? What would look best in the space you have?

Experts recommend that a third of the front yard should be planting beds and the rest should be lawn. Keep this in mind as you plan - you don't want your yard to be overcrowded nor sparse. Don't worry if it takes some time and experimentation to get the right balance. Landscaping isn't permanent, and mistakes can be changed. Of course, some features are harder to change than others, but don't let yourself get overwhelmed by the expectation for "perfect."

Finally, your front yard is your space — your house's face to the outside world — so do what appeals to you. What plants and shrubs do you like? Do you have a statuary collection you want to show off? Feel free to throw out the rulebook. This is your dream-come-true front yard, and it should fit your lifestyle.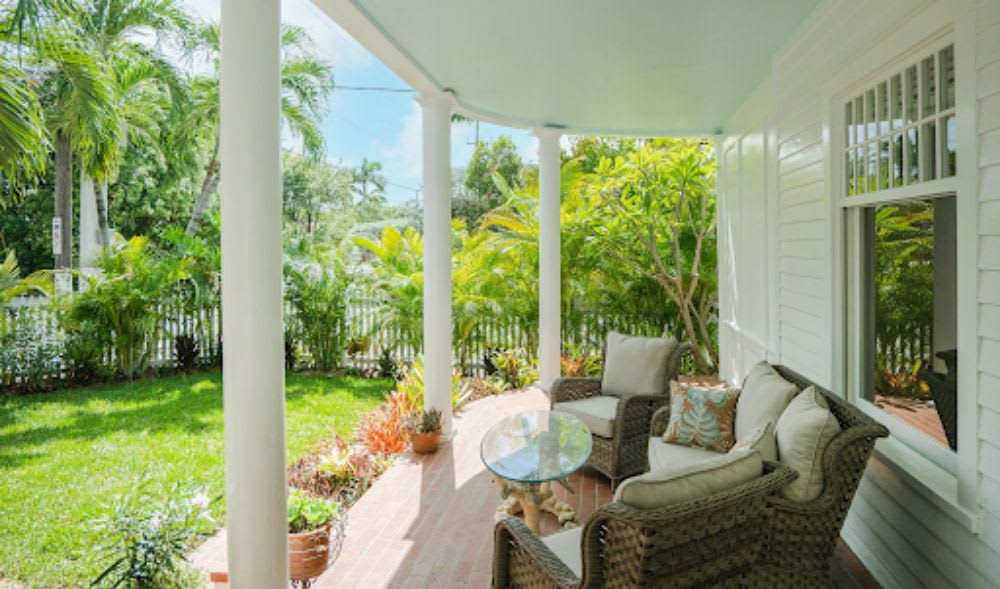 Porch
Even the porch has a part to play when it comes to a landscape refresh. Spruce it up with a splash of color and imagination. Both your front or back porch are perfect places to put potted flowers or plants; consider putting a floral wreath on the door. Some other ideas include hanging plants or arranging decor so that flows into the front lawn space.

For a finishing touch, how about adding some classic porch furniture? Wicker armchairs, rocking chairs, or other comfortable styles will allow you to enjoy your porch to the fullest. They'll take your porch from a pass-through space to an outdoor room worth spending hours in.

Last but not least, your porch should be in the same design family as your yard. You want their personalities to connect and complement each other, but not be repetitive in their decor. If you've got a strong design vision, consider highlighting either the yard or the porch and let the other take a supporting role.
Flowers & Plants
One of the most exciting aspects of refreshing your yard is choosing the flowers that will be your landscaping stars. With so many different species and colors, there's a lot to consider when picking the flowers that are right for you. With its warm climate and year-round sun, the Florida Keys is a supportive zone for most types of plants.

Without further ado, here are some of the best flowers to plant in your Keys yard!

A renowned dry-region flower, the Coreopsis comes in a variety of bright colors. Whether you pick the popular yellow Coreopsis or the red, pink, or orange varieties, you won't regret planting these beauties. They're low-maintenance, drought-resistant, and can be planted under full or partial sunlight. What's more, these daisy-like blooms are Florida's official state flower!

Another fan-favorite is the Pentas. An incredibly easy flower to take care of, it comes in a variety of colors like lavender, white, red, or shades of pink. With their easy maintenance and cute blooms that gather in bunches, the Pentas also attracts hummingbirds and butterflies - all great qualities for your future paradise. Make sure your Pentas has good drainage and is planted in an area with full or partial sunlight.

The brilliant and gorgeous Blue Salvia will make a great addition to your outdoor oasis. They're commonly blue, violet, or white, but new color varieties are being developed all the time! The Blue Salvia blooms frequently and is a favorite among hummingbirds, bees, and butterflies. Depending on the variety, it can grow up to be 18 to 36 inches tall. It does exceptionally well in warm, dry climates and is very low maintenance. The Blue Salvia should be grown in full sunlight and have excellent soil drainage.

Finally, there are many drought-tolerant plants — many of which are native to Florida — to consider. The native Bluestem Palmetto is a fantastic pick. A dwarf species of palm, it can be grown in shade or partial sunlight. If you want to add a tree, how about Seagrapes? This elegant evergreen is drought-resistant and blooms beautiful white flowers. (You can also eat its tasty fruit.) And let's not forget the highly popular Blanket Flower, with its vibrant petals and big, sunny countenance. This flower thrives in heat and will make a beautiful finishing touch to your yard.


Interested in Florida Keys real estate? If so, contact Ocean SIR today. Their professional team will walk you through the house-buying process and help you find the home — and yard — of your dreams.