Locally adored eateries
It is no secret that the Florida Keys are home to an array of fine dining locations. This list is teeming with spots that locals hold dear to their hearts.

Let the ocean's tranquility wash over you while you dine on tasty dishes at the waterfront Lorelei Restaurant & Cabana Bar, located in Islamorada. Relax and savor a meal at any time of day—this spot is open for breakfast, lunch, and dinner. Start your day with a hearty helping of shrimp and grits, or enjoy a bowl of stone crab chowder for lunch. Get a taste of both land and sea with a surf & turf NY strip and char-grilled lobster tail. Local musical performances occur at this restaurant nightly for an entertaining night out. The ocean-centric menu and beachfront scenery make for an excellent dining experience.

A quaint drive-thru kiosk that serves up tasty white mochas, coffees, and smoothies is none other than Curly's Coffee, located in Marathon. Rent a kayak, paddleboard, or spend the day fishing at Curly's, but be sure to get your caffeine fix first at the coffee stand before heading to the water for some Florida Keys fun.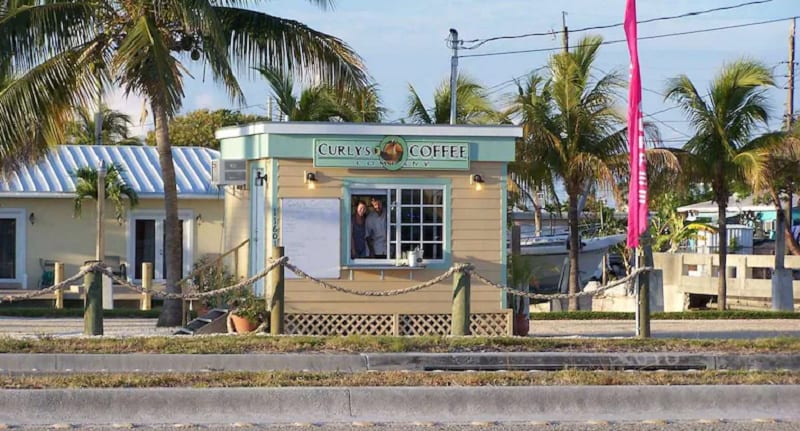 (Credit: Zomato)
You can typically find local police and handypersons waiting in line for delicious sandwiches from the charming grocery 5 Brothers Key West. Serving up excellent Cuban sandwiches and coffee is the name of the game here. Pick up a guava pastry, a bacon and cheese breakfast sandwich, and a commemorative coffee mug from the shop before relishing in another beautiful day in Key West.

Little Pearl Key West truly makes you feel like you've stumbled upon a hidden treasure. Offering a wide selection of wines and local seafood, this restaurant will take you on a culinary adventure. The chef-curated four-course menu includes delights such as scallop crudo with complementary garnishes and grilled beef tenderloin with mashed potatoes and lobster demi-glace. Finish your meal on a sweet note with a choice of milk cereal panna cotta, passionfruit sorbet, or a delicious cheese plate. Reserve a table for your next date night to luxuriate in the $70 prix fixe tasting menu.

Take a much-needed stroll on the infamous Duval Street to a local favorite Cuban spot, El Siboney Restaurant. This hidden Key West eatery is named after the indigenous peoples of Cuba, the Siboney. Featuring everything from stuffed crabs and grilled pork chops to conch fritters and tostones, the menu means you're bound to enjoy an excellent meal in this secluded spot.

The Lazy Lobster Seafood Restaurant is a Key Largo restaurant loved by locals and tourists alike. Begin your meal with oysters on the half-shell, and delicious homemade seafood bisque, followed by a lobster served in one of fifteen different styles. Pasta comes with chicken, seafood, or vegetarian-style, and an array of sandwiches and kids menu options are also available to diners. Finish the meal with a specialty dessert or a treasured slice of Key lime pie. If you prefer, you can bring your filleted and deboned local catch from your fishing trip to the Lazy Lobster, and the chefs will happily serve it to you blackened, broiled, grilled, or fried!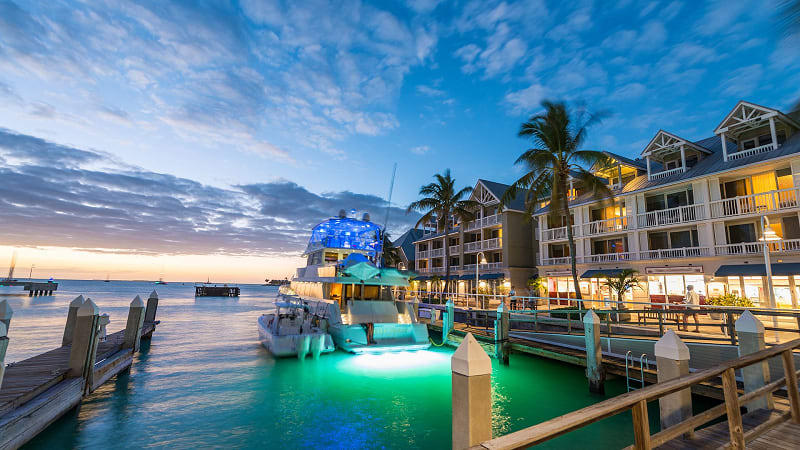 (Credit: Key West Travel)
Treasured attractions
Experience the Florida Keys like a local with these fine excursion opportunities.

If solitude and shell searching is what you're after, C.B. Harvey Park is an ideal Key West location for your next beach day. Picnic tables and palm trees provide shade for relaxing and listening to the tides. Soft sand and blue waters make this a great spot for sunbathing and swimming. This restful beach is perfect for a getaway from city life and daily chaos.

Ideal for a family day of varied recreation, Islamorada Founders Park is brimming with amenities suitable for all. This park sports an Olympic-sized swimming pool with diving and aquatic instructors on deck to lead various classes. Let your little ones splash and frolic in the Splash Pad Play Environment featuring shallow water and hands-on gadgets to explore. A stunning beach with shallow waters is an excellent spot for swimming in Florida Bay. This park offers a small play area for young children and a Pirate Ship area for the older kids. Picnic tables, grills, a kid's playground, and a sand volleyball court make this waterfront strand perfect for a day trip. There are many other recreational ventures available at this location. Stop by for a lovely day trip with the family in beautiful Islamorada.

Clarence S. Higgs Memorial Beach Park is a 16.5-acre waterfront venue ideal for spending the day out on the water. Activities accessible to visitors include snorkeling, sunbathing, tennis, beach volleyball, and an oceanside children's playground. Rent some beach-going essentials at Tropical Water Sports, from kayaks and paddleboards to beach chairs and umbrellas for a family-friendly day of adventure. Bring your canine family with you—this location offers a dog park for dogs of all sizes. You'll be delighted exploring the historic Civil War Era Fort, which was the home of Key West Garden Club for over 50 years and showcases native flora and a scenic view of the Atlantic. This treasured site offers endless opportunities for leisure and amusement.

If you are forever enthralled with majestic birds, be sure to visit the Laura Quinn Wild Bird Sanctuary. The Florida Keys Wild Bird Rehabilitation Center's mission is rescuing, rehabilitating, and releasing native and migratory wild birds that have had a less-than-ideal past. The sanctuary features nearly 40 species and over 90 birds not fit for re-introduction into the wild. Select birds are used for educating the public on how to protect this treasured wildlife and for positive interactions. View these beautiful creatures flourish in a safe environment.

For a tranquil afternoon away from life's stresses, head to The Key West Butterfly & Nature Conservatory. View hundreds of magical winged creatures in a tropical paradise environment. Besides the butterflies, you can take in scenes of waterfalls, trees, and countless exquisite birds and beautiful plants. You can learn all about butterfly physiology, anatomy, migration, and life cycle at The Learning Center and view butterfly-themed art by Sam Trophia in the Wings of Imagination gallery. Relish in nature's gifts and create a memorable experience in this climate-controlled habitat.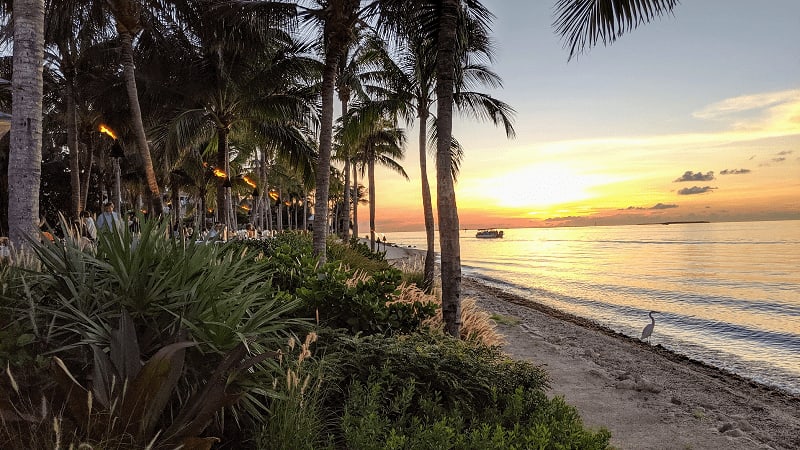 Secretive saloons
Nightlife is a crucial highlight of the Keys archipelago. These spots are some of the area's best-kept secrets.

Laidback and tropical, Gilbert's Resort Tiki Bar is a crowd-pleaser for locals and tourists alike. Treat yourself to an oceanfront dining experience, some specialty cocktails, and live entertainment at this esteemed resort tavern. Sip on Gilbert's Punch 11, featuring four types of rum, while feasting on some grilled shrimp skewers. A splendid evening full of drinks, laughs, and entertainment awaits you at this local treasure.

Enjoy a leisurely evening of tasty treats and drinks at Marathon's Burdines Waterfront Marina and Bar & Grill. The casual and approachable dinner menu includes shrimp burgers and chicken clubs. Available drinks are written on the restaurant's chalkboard, so drop by to see their cocktail offerings. Swim or sail your way up to this cantina for a relaxing and enjoyable night of fresh fish, drinks, and entertainment.

Get a glimpse of Key West nightlife at Green Parrot. Featuring live music, Monday night bingo, and weekday happy hour specials, this unassuming spot is a favorite for locals and visitors. Ideal for an evening of socializing and debauchery, this bar calls itself "A Sunny Place for Shady People."

If you suffer from separation anxiety from your canine companion, fear not—you are welcome to bring them along for your night out at Hank's Hair of the Dog Saloon in Key West. Hank's Saloon features live performances by acclaimed local and national touring acts in a pleasant outdoor setting. Enjoy Mark B's Famous New England Lobster Roll from Garbo's Food Truck with your brew, and spend the evening socializing with your pup and human pals.

Once a bait 'n tackle and general store in 1931, today No Name Pub offers up beers and tasty food. This bar offers up a Meathead pizza, beer-battered fish & chips, and various fares suitable for every bar food lover. Wines, bottled brews, and draught beers adorn the drinks menu. Located in Big Pine Key, this pub is worth a visit.

Savor natural wines and delicious food in the comfortable setting of Viv Wine Bistro. Small bites of roasted bone marrow and delivered eggs are available to snack on, while cheese and charcuterie boards make a great addition to your glass of red wine. This gem offers natural and organic wines to its patrons, focusing on hand-picked and authentic results. Pick up a curated or custom cheese and charcuterie board for your next soiree, or drop in for a glass of wine and sumptuous food.

If you're ready to explore all the beauty and locality the Keys has to offer, drop Ocean Sotheby's International Realty team a line to find your ideal Florida Keys property.