When relocating to the Florida Keys—whether it's a second or vacation home or permanent residence—there's little question as to the lifestyle you're after. With over 1,700 islands; sandy beaches, scuba, snorkeling, and fishing opportunities; and spectacular views of both the Atlantic Ocean and the Gulf of Mexico, your arrival is predicated on a love for the laid back tropical lifestyle.

While that Keys lifestyle is both singular and unmistakable, the housing offers a surprising level of choice and diversity. Common traits abound, as practically every home throughout the archipelago—from Key Largo to Key West—proffers spectacular water views. Additionally, the vast majority of properties are also just a short trek away from the aforementioned luxuries of living in such a spectacular setting, meaning your favorite ocean or gulf side pursuits are mere minutes away no matter where you live in the Keys.

What may be less clear, though, is the type of home that may ultimately appeal to you. More than just condos and beach flats, the Florida Keys claim some of the most unique and magnificent housing options anywhere in the country. The real question is—from canal-front mansions to condos—which Florida Keys home style is right for you?
Key West Style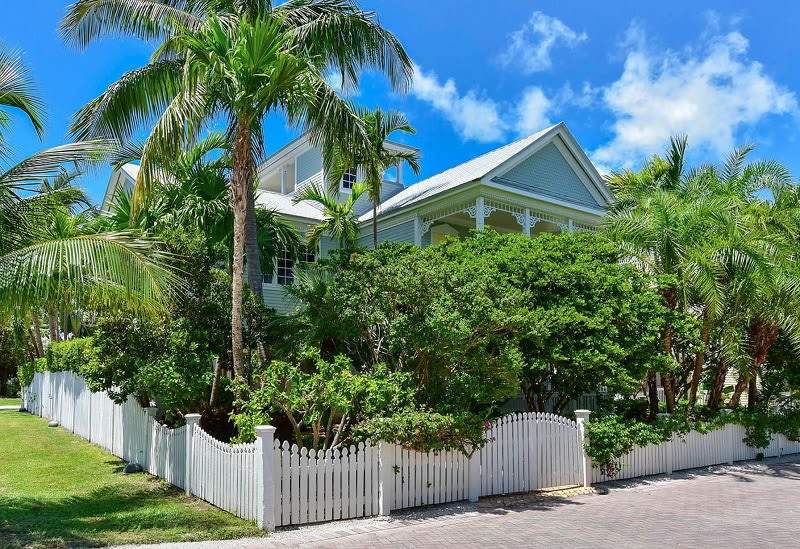 Any list of Florida Key home styles must begin with the form it's most famous for—the Key West or "Conch" style home. Predominantly found in Old Town Key West, these cottages host a mix of design styles and forms. Built largely of wood, one is immediately taken by the vibrant use of color on the home's exteriors: think seaside blue and green, with multiple shades of yellow and pink.

Bright, bold tropical pastels help set these homes apart, as does the blend of more mainland features. Many conch homes will feature a picket fence and range in size from cozy cottages to grand mansions. Columns help frame the front porch in both the small and large versions, with bolder two-story homes featuring intricate latticework or iron accents. These latter homes also host Victorian or Queen Anne design features and provide Key West with a distinctive architectural identity.

Key West homes date back to the 19th century, with the homes' outdoor spaces as wild and green with tropical vegetation as the day they were built. Old Town, along with several adjacent districts, is considered home to the most extensive collection of wooden conch houses in the country.

Emulating their catchall design aesthetic, Key West Style homes are available at a multitude of price points. Original construction fixer-uppers are available for $500,000 to just under $1 million, depending on size and location in Key West. Fully restored conch houses and new construction that aims to recreate the style are on offer from $1 million to $7 million.

Also within this housing category is the Arts and Crafts bungalow, a close cousin to the Key West conch. Available throughout the whole of the Florida Keys, including Key Largo, Islamorada, Marathon, and Key West, bungalow homes are most available as income-generating opportunities. While few are located directly on the beach, they follow the classic bungalow design style—open floor plans sheltered by sloped roofs and fronted with large front windows and welcoming porches.
Florida Style Canal Mansion
Less a home style and more a lifestyle choice, canal mansions in the Florida Keys come in many forms. Grand seaside estates, quaint cottages, and stilted "in-and-out" homes all feature along the Keys' hundreds of miles of canals. The most popular home style along these beautiful strips of water is what's collectively known as the Florida-style home.

Incorporating the best of a multitude of design styles, including hints of Mediterranean, Spanish, and even the ubiquitous American ranch-style home, Florida-style estates are built to make a statement and make the most of their tropical setting. In the Keys, this means predominantly stilted homes with a coastal vibe. The open floor plan ensures a social setting with unobstructed water views from the kitchen, dining areas, and central living areas.

Outdoor living is central to the draw of many canal homes, with expansive decks and porches and terraces designed to capture gulf or sea breezes. In many parts of the state, the Florida-style house stands as a single story; however, much of the construction along the 120-mile long island chain features a second level of living. It takes advantage of the spectacular setting and direct access to the area's many water pursuits.

To that last point, the primary draw for these water frontage homes is the boat slips and launches for personal watercraft and direct access to the bay, gulf, or ocean. Canal neighborhoods are most prevalent in Key Largo, Islamorada, Marathon, and Big Pine Key.
Non-Traditional Condos
Like canalside mansions, condos in Southern Florida are less about the home type and more focused on living a specific lifestyle. For those who favor a lower maintenance lifestyle, the Florida Keys offer the perfect opportunity for condo ownership. Though maybe not on the scale of the single-family home options on our list, condos in the Keys have the advantage of access without the upkeep.

Throughout the island chain, condos are abundant everywhere from Key Largo to Key West and points in between. Unlike other coastal areas in Florida, however, Keys condos offer a more unique form of vacation living. This can be best shown through the home's access. Regardless of where in the Keys you purchase, you're close to the best of what the archipelago has on offer.

Next, Florida Keys condos are not your typical high-rise, high-density living spaces. Aside from Marathon's Bonefish Tower, which is the only high-rise building in the Keys, building height throughout the Keys is limited to 40 feet. That translates into a less hectic lifestyle and fewer residents and vacationers tripping over each other to enjoy the region's many indulgences.

In addition, condos afford you a far more flexible lifestyle. While owning an oceanside estate or single-family conch has its benefits, there is a caretaking aspect involved in your ownership. Condos in the Keys are, unsurprisingly, turnkey. You can pop in and out at your leisure. Claim it as a permanent upscale home—an upscale apartment all your own—or utilize it as an income generator when you're away.
Contemporary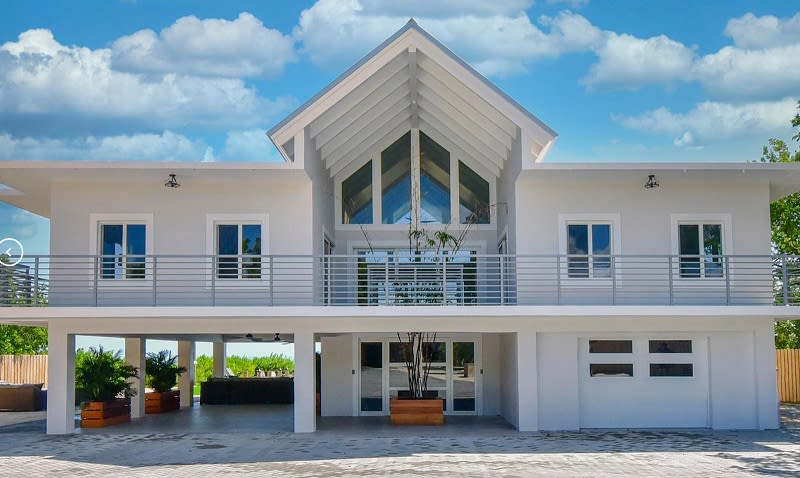 Although they might seem out of place in the Florida Keys' tropical setting, contemporary homes are a natural fit to the archipelago's aesthetics. The home's malleable nature translates to its classic open floor plan, bold lines, and modern-day mindset infused with a distinctly tropical vibe.

Because contemporary homes take to the forms and styles of the period they're built, the Keys feature unique structures that are time capsules of their era. The most recent builds follow the contemporary evolution of modern floorplans wrapped in a Craftsman shell, with the bonus of being surrounded by the Keys' diverse tropical environment.

The natural setting further highlights the contemporary home's added significance in the Keys. Ultimately crafted as a "home for now," contemporary homes are regularly designed and built as sustainable properties. Constructed from materials recycled or repurposed, this form of home is also energy efficient and casts a decidedly eco-friendly silhouette throughout the Keys' environmentally conscious neighborhoods.

Contemporary construction heavily favors wood, stone, and glass. In Florida's southern tropical climate, the stone takes a back seat to the wood and glass, better to frame ocean views and mimic the region's old-world personality. You can find contemporary homes throughout the Keys' many neighborhoods at a number of price points.
Additional Styles
If you're looking for something beyond the Keys' four major home styles, don't fret. Although the above represents the most extensive housing stocks across the area's 1,700 independent islands, there's an impressive variety of homes not to be overlooked.

Mediterranean, Spanish Colonial, and ocean-modern designs pop up throughout the Keys' many high-end neighborhoods. More unique styles, such as Balinese architecture or plans with a more extensive tropical Asian flair, are available for those willing to pay a premium.

Such homes also come with a high level of privacy. Perfect for homeowners that wish to maintain a residence near Key West's urban historic districts or access to the waterways of the Upper and Middle Keys without having to navigate heavy traffic. There's also the option to eschew all of the above in favor of your own private island compound, which does often come available throughout the Florida Keys' magnificent tropical setting.

Ready to explore the best of Florida Keys real estate? Contact Ocean Sotheby's International Realty today to start your home buying or selling journey. From homes for sale in Key Largo or Marathon to Key West real estate, allow Ocean SIR to be your guide to the Florida Keys' luxury real estate market.