When you consider the fact that we've spent a majority of the past 19 months inside our homes, it's not surprising that home design trends are shifting to accommodate the quarantine lifestyle. Say goodbye to the crisp, cool minimalist interiors that are borderline sterile, and say hello to deep tones and round edges which invite you inside your home for more than just a good night's sleep.

If you're not sure where to begin with starting your interior design transition, this list of eight ways will provide you with a quick roadmap to updating your Islamorada home decor.
1. Go green
As we shift out of heavy, moody tones and into lighter, airy spaces, one color remains: green. Green is often used to bring us into balance. When we want to recharge our internal battery, we benefit from going outdoors and spending time in nature, which often teems with many different iterations of green. Psychologically, the color has the power to clear our heads, allow us a sense of security and motivate us to keep moving forward.

From shades of sage and mint to darker shades of jade and emerald, using green as a wall color carries the same sense of zen relaxation as using a shade of white. Don't forget to choose a tone that will work well with other elements of your overall color and design scheme. If committing to a new wall color is too much, bring in soft accents in the vein of throw pillows and plush blankets for a low-commitment design touch.
2. Add plant life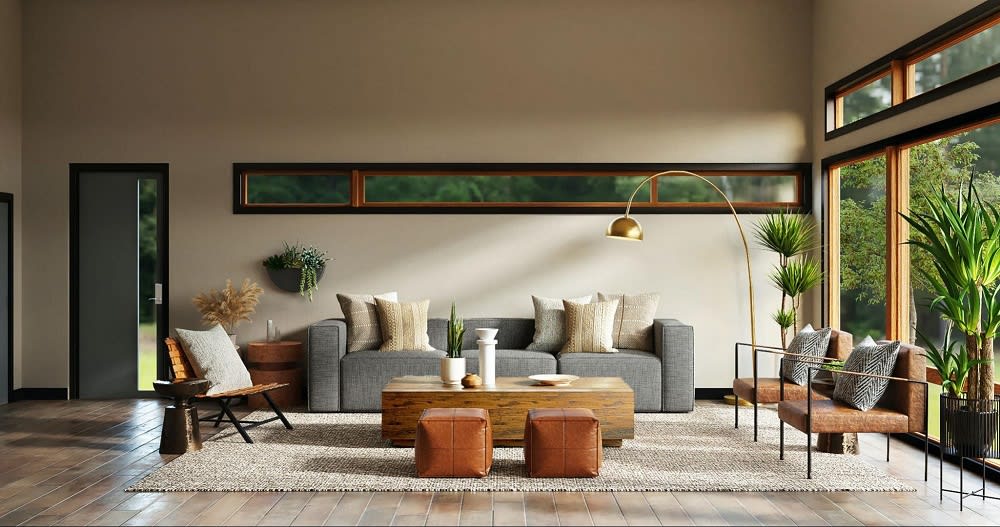 If you've seen any interior design photos in magazines or if you've found yourself inside the well-styled home of a friend, the use of plants in home design probably isn't foreign to you. Not only do they offer a pop of contrast against neutral designs, but they've proven to boost productivity, sharpen focus and improve your overall outlook on life.

However, it can be difficult to choose plants that fit your lifestyle, schedule, and design goals. Succulents have been on trend as they're supposedly difficult to kill, but that reputation has also left many an echeveria wilted on unattended windowsills. If you're one of the people that had trouble keeping those small cactuses alive, luckily for you, the trends are heading in your favor.

Rooms in which plants are large and in charge are coming into trend more and more as we seek to spend time in environments that reduce stress and promote mental health. It's best to choose plants that'll thrive in your climate, so try adding a Norfolk Pine or a Bird of Paradise for a tropical statement piece guaranteed to improve your indoor air quality.
3. Opt for sustainable and natural materials
Although plants have acted as design elements inside homes and offices for years, they've begun to make their way into our homes in more ways than they did before. How? Through the use of sustainable materials in both soft and hard decor pieces.

Utilize natural, sustainable fibers like silk, wool, and cotton in throws, pillows, and table runners, which are sure to complement many of the other design pieces in your home. Wood has always been and will continue to be in style, but with the move towards eco-friendly products and producing less waste, reclaimed and repurposed wood is a great choice. Bring a unique piece of reclaimed wood into your home for an organic vibe that'll match the outdoor beach landscape.

Pair your wood with a complementary natural stone. Sandstone, granite, marble, and obsidian can all be used as a contrast to fabrics in bold colors and patterns.
4. Bring the texture
Every year, we see styles from years past making comebacks in modern pieces. As we head into 2022, don't be surprised if you start seeing trends from the 1970s making their way into current designs. The new trend of maximalism has spurred on the resurgence of eclectic decor, macrame, the heavy use of texture, and the comeback of pieces featuring these design elements.

Opt for a velvet couch in a bold color and curate a decor collection that complements and contrasts. Choose rattan, bamboo, and wicker elements for a lighter, more natural feel that will suit any color scheme. They're also more sustainable than heavy plastics and other materials typically found in "fast" home decor.
5. Maximize natural light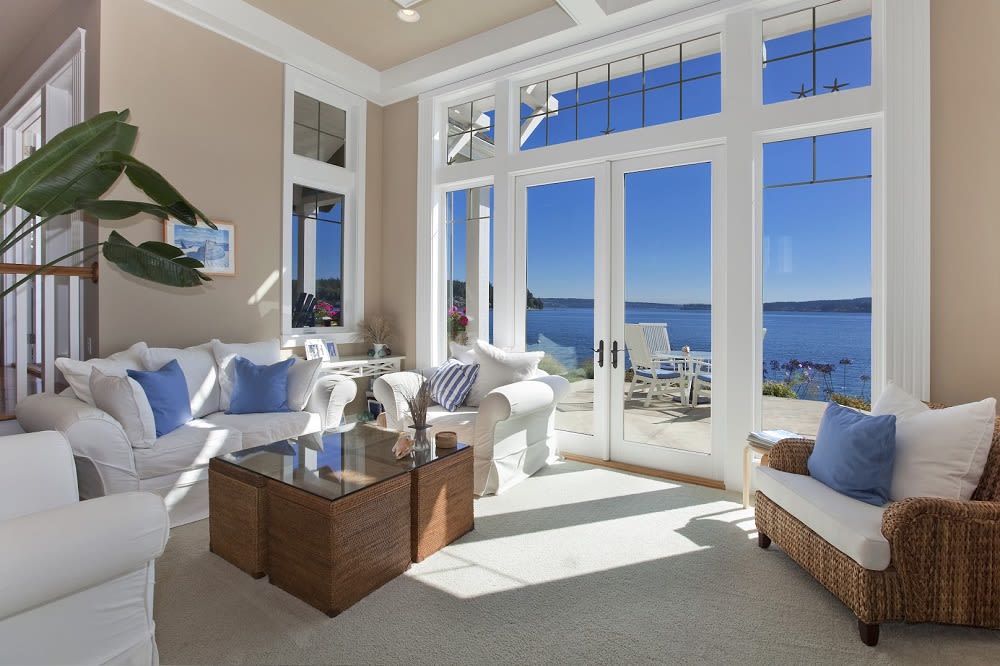 There are 260 sunny days per year in the Florida Keys on average. These days make the perfect backdrop for all of your favorite recreation and leisure activities and allow natural light to stream into Keys homes. The transition to natural colors and textures means a transition to natural light sources, as well.

While it may not be easy to replace your windows with larger panes of glass, there are other ways to let in some natural daylight. Pull the heavy curtains away from the windows and welcome in the sunshine for some much-needed health benefits. Ever notice you have more energy in the morning than at night? This is because the circadian clock uses sunlight to calibrate itself, and when it's sunnier, your body naturally produces less of the sleep-inducing hormone melatonin than it does when it's dark or overcast.
6. Soft, rounded edges
Once again, we're tired of the rooms that don't feel inviting. Not every person needs a home that resembles a flawless showroom, and having rooms that feel lived-in and appreciated are on the rise. To achieve this, add furniture and decor that has softer edges. Not only will your room feel more calming with the lack of sharp edges, but you'll establish a flow that carries over into every facet of your daily life.

This is another element of 1970s design that is finding a new spotlight in current trends. You're bound to see rounded or curved edges on furniture, round tables, decorative trays, mirrors, and small decor pieces. One of the major upsides to using curved furniture? It's not restrictive. Use a geometric pattern on the wall, incorporate those antique floral cushions you love, and appreciate the organic feel that curved elements lend to your space.
7. Thanks, it's vintage!
The pandemic has made it harder to connect with others, so it makes sense that there's been an increased interest in genealogy, family roots, and a connection with passed-on loved ones' personal items. Whether this is you or not, you probably have some family heirlooms sitting around your home. Think of your great-grandma's knitted blanket, your grandfather's old fishing hat or antique china dinnerware, crystal glasses, and anything else that has carried significant meaning beyond its intended use.

Well, get ready to dig them out of the closet they've been stashed in and prepare to give them new life. With the resurgence of the maximalist design style and the modern need for a home that showcases your personality, there has never been a better time to put those heirlooms to use around your home. Showcase a 19th-century writing desk in your revamped home office for a regal piece that doubles as a conversation starter, display the rug your great-grandpa brought back from his journeys abroad, and build your design around pieces with sentimental value.

Don't have any vintage pieces you truly love? Visit the NIKNAX Antique and Collectible store on Islamorada for a few handpicked pieces that'll showcase your own eccentric personality.
8. Rethink your bathroom's hygiene
We're still in the midst of a pandemic, despite the progress we've made. Now more than ever, people have been updating their home bathrooms to make them more sanitary places. Mold and mildew can grow in places moisture builds up, such as your bathroom, so add bacteria-resistant faucets, antimicrobial wall plates and light switches, or even a self-cleaning toilet like this one.

Realistically, the fewer surfaces you're touching and the less bacteria those surfaces are holding, the cleaner your bathroom will be. Some homeowners are moving toward the smart house concept, in which many of the systems in your bathroom and beyond can be controlled by voice, motion, or apps on your phone.

Sometimes the best way to achieve that new-home feeling is by actually moving into a new home. The homes for sale in Islamorada are as beautiful as their surroundings, and you'll never regret lounging on the beach.

You could find a new piece of Islamorada property by scouring real estate ads — or you could contact a Florida Keys real estate agent who will have your best interest in mind while they do all the searching for you. OceanSIR is available to meet your real estate needs, from waterfront mansions to tropical condos.