The Florida Keys are perhaps best known for their vacation reputations — beautiful beaches, relaxing resorts, fun nightlife and a lot of shopping are just some of the reasons why people head to these southern islands.

But there's also an impressive art scene distributed across the entire island chain. Whether you're in the market for some new artwork or are simply interested in supporting local artists, be sure to check out these 10 art galleries next time you're in the Florida Keys.
Islamorada Art Gallery by Pasta
Pasta Pantaleo has a passion for "art, the ocean, and helping others," and he's built a gallery that reflects this. Pasta's own artistic history began when he became one of the foremost airbrush artists in the late 70s. Over time, Pasta grew to love art and began working on canvases.

Today, his gallery represents everything that makes the Keys so special, including mangroves, birds, boats, fish, and ocean scenes. Pasta also has a passion for pop art, which hangs brightly in his gallery. Check out the many homes in which Pasta's artwork and sculptures have been installed, and consider buying a piece for your Florida home.
Roberto Russell Gallery
Located in the Ocean Sotheby's International Realty Office on Islamorada, Roberto Russell Gallery is a fine art gallery that showcases paintings from a variety of featured artists every two months. Past featured artists have included none other than Pasta Pantaleo as well as sculptures by Geoffrey Smith. Exhibitions here draw large crowds thanks to their convivial atmospheres and beautiful offerings. Stop by to find the next great work for your Florida home.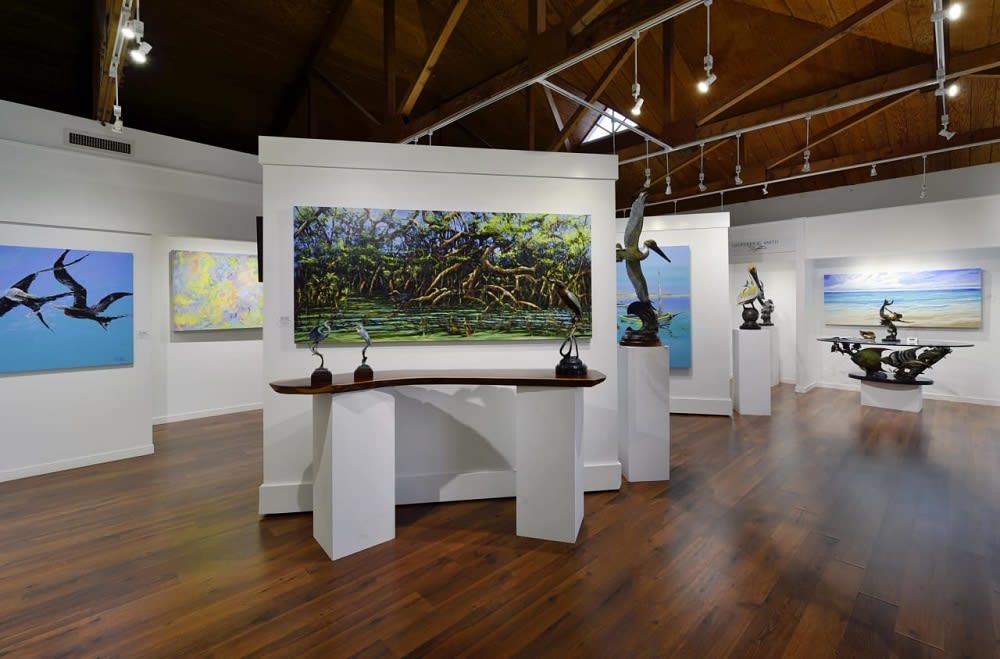 Credit: Roberto Russell Gallery


Wyland Gallery of the Florida Keys
Owned and run by Jay Shaffer and Guy Vincent, the Wyland Gallery is a space dedicated to connecting artists with art collectors and enthusiasts. Jay and Guy have a collective 50+ years of art experience and want to help you find your perfect piece of art, whatever that might be.

The selection at Wyland represents an eclectic, global taste. You'll find everything from paintings by Jim Warren to Murano glass sculptures by Oscar Zannetti to Wyland bronzes and lucites. Come tour the gallery and be sure to check out October's exhibitions by artists David Wight and Michael Cheval.
Artists in Paradise Gallery
This eclectic Big Pine Key gallery is all about paradise! Paintings of orange sunsets, tall palm trees, and scenic ocean views, all by local artists who know and love the Keys. You'll also find an array of unique jewelry made from natural beach materials.

One of the best parts about this gallery is its education program. They host several events at the Moose Lodge, such as jewelry making and acrylic painting of certain scenes. Practice your art skills alongside artists of various levels and hopefully leave with a product you love!
Key West Gallery
This upscale gallery is a Key West treasure. Kellie Alpert runs and directs the gallery, and she hand selects unique pieces from around the world. You'll find everything here from impressionist paintings to modern sculptures to abstract pieces. Alpert is also willing to reach out to her wide network of art experts in the event her clients don't find pieces that match their styles.

Be sure to check out the gallery's many events, like Live the Fantasy with Adam Scott Rote and the Peter Max Artwork Retrospective. The Key West Gallery is a place to look, learn and invest in your artistic taste.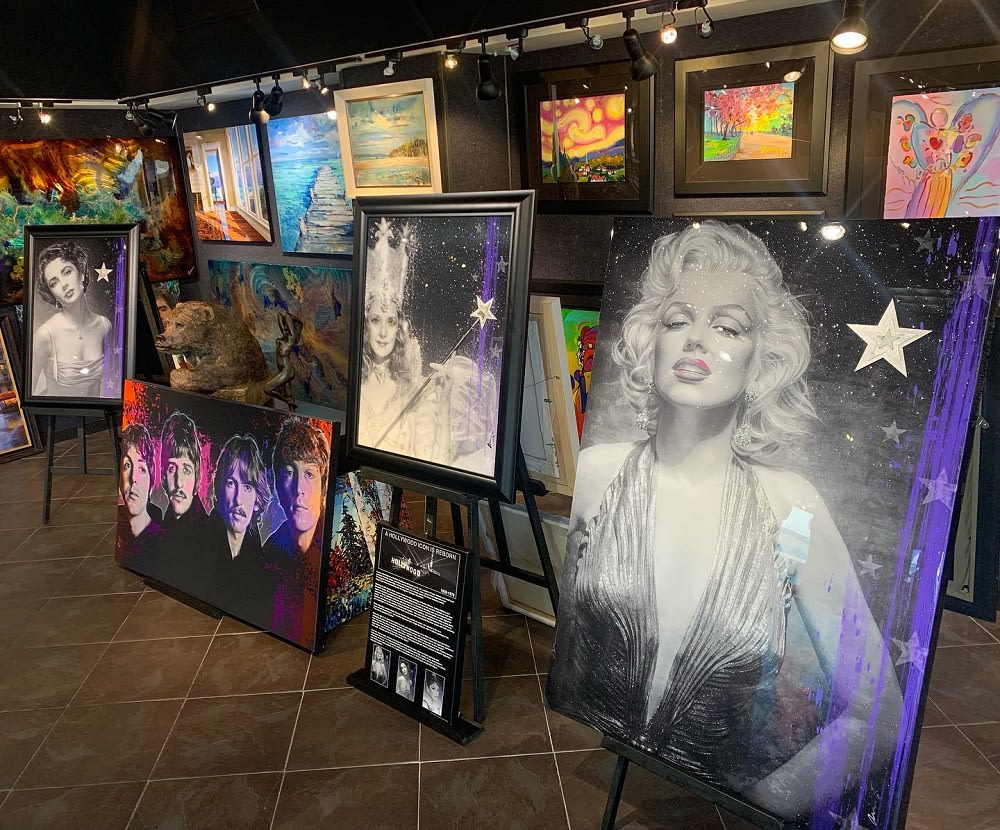 Credit: Key West Gallery

Zazoo Fine Art Gallery
Don Oriolo opened Zazoo Fine Art Gallery to showcase his own paintings and cartoons as well as those of other artists. Oriolo's father created the Felix the Cat cartoon we all know and love, and Don's goal has been to promote its legacy through his own depictions. Don actively paints and sketches at Zazoo, which is fun for visitors to watch!

Some other prominent artists featured here include Allison Lefcort, Tom Everhart, and Ray Drea. Their work is colorful and exciting, and no two artists are alike. Zazoo also features several photographers, whose photographs seem to burst out of the frame and come to life. Stop by Zazoo for a truly artistic experience.
Alan S. Maltz Gallery
Alan S. Maltz is known as "The Official Wildlife and Fine Art Photographer of Florida," and his gallery has solidified this reputation. Maltz is a self-taught artist who believes in following the light. To visit his gallery is to see incredibly vibrant photos of Key West sunsets with their layered, "ever-changing" lights; sepia-toned photographs of Florida scenes that evoke an "Old Florida" feel; black and white photos of scenic seaside views, and so much more. The gallery also has a boutique where you can explore everything from his original works to note cards and glass art.
Guild Hall Gallery
Guild Hall dates back to 1976 when it was a 27-artist co-op where artists could affordably share their works. Its mission remains the same today, thanks to the dozens of artists who gather here to display their jewelry, stained glass, acrylic and watercolor paintings, photography, and mixed media works. You'll see all of it when you visit Guild Hall, and you can support its entire network of artists by purchasing and broadcasting their works. This gallery is instrumental in keeping the arts alive in Key West.
Harrison Gallery
Artists Helen and Ben Harrison have owned and operated Harrison Gallery since 1986. They specialize in contemporary fine art, and their hand-selected group of artists are some of the best in this space. The gallery itself is simple, with plain white walls that allow each piece to shine. You'll also find dozens of original jewelry pieces, which add a modern touch to any look. Helen's work is available online and in the gallery and is extremely popular. If you enjoy modern works that excite and challenge the eye, this spot is worth a visit.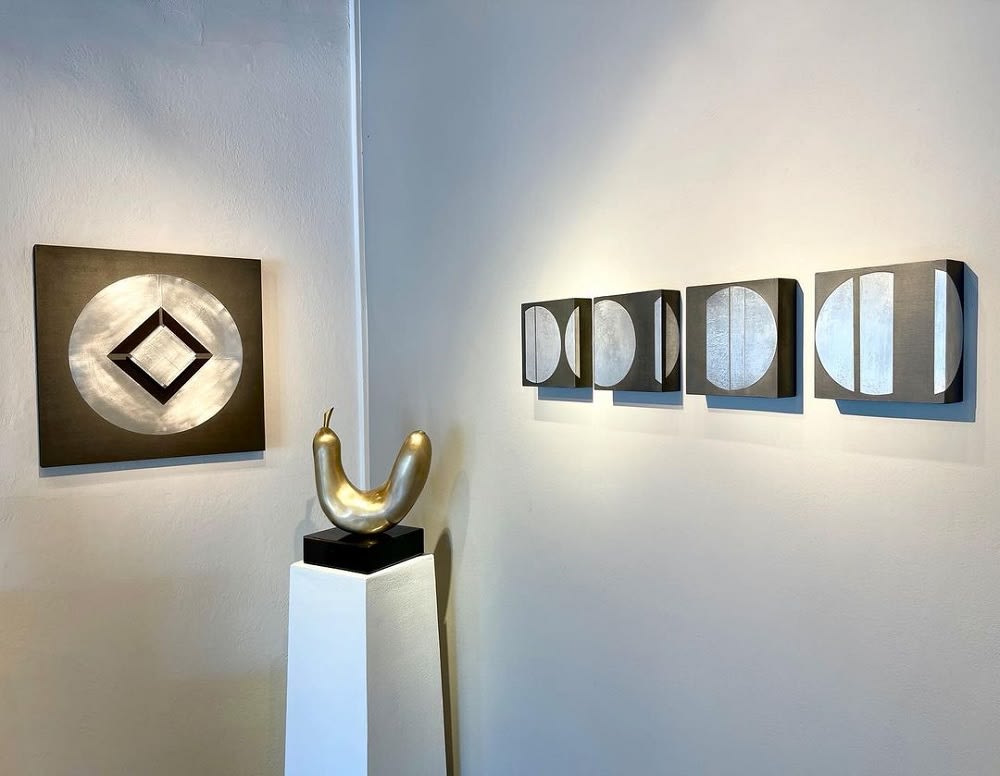 Credit: Harrison Gallery

Collections Key West
Collections is, at its core, an homage to the Florida Keys — their people, culture, and natural beauty. Karen Wray is the gallery's sole owner and curator, and she carefully selects a range of artwork that reflects the place she knows and loves: Stock Island.

If you arrange a visit (either in-person or virtual), you'll see paintings, sculptures, glassworks, antiques, furniture, and island collectibles created by Cuban artists and a diverse selection of locals. The content, mediums, and experiences of Collections are ever-changing, and Wray prides herself on this variety.
Interested in Florida Keys homes for sale? Contact OceanSIR today for the Keys' best listings.