As a renowned and idyllic vacation spot, the Florida Keys are treasured by visitors and locals alike. With its pristine beaches and sparkling blue waters, it's not hard to see why the Keys have become such a cherished location. This 125-mile long chain of islands features a warm climate and many exciting things to do – popular activities include boating, scuba diving, fishing, and snorkeling.

Whether you're here for a refreshing getaway, or if this sunlit paradise is your forever home, many of the Keys' special moments can be enhanced with a cocktail or two. Stroll along the beach, enjoy a delicious family dinner, or relax by the pool while sipping on your favorite beverage. With a diverse array of bars and talented mixologists ready to cater to your tastes, there's something special for everyone. Here are some of the best places to kick back after 5 o'clock.
General Horseplay
For the best cocktails around in a fun-loving atmosphere, don't miss a stop at this fabulous two-for-one bar. Their regular interior bar has plenty of quirky drink specials, like the Wake Up Buttercup, Tai Breaker, and the Unicorn Heart. There's also a choice selection of wine, spirits, and beer, as well as a delectable snacks menu! Enjoy scrumptious fares like their Curried Caramel Corn or Cupcake Sushi.

The Back Bar at General Horseplay is an amazing backyard patio space, perfect to gather with friends. With yard games, live music, and themed events, you're sure to have a great time with your group! Pair your refreshing drink with a game on their indoor pool table for the perfect cherry-on-top to your day. General Horseplay is open weekdays from 3 p.m. to 2 a.m., and from 12 p.m. to 2 a.m. Saturdays and Sundays.
The Roost
This fabulous cocktail bar has a lot to offer with its diverse array of cocktails, exquisite wine, and delicious food. Whether you want to try their special tap cocktail of the day or their Spicy Ginger Old Fashioned, you'll be delighted by what you discover at The Roost. Feeling a little hungry? Their menu centers on shareable small plates, such as their delicious cheese board, smoked salmon, and dessert of the day.

From a great first date spot to a fun girls' night out, The Roost is open every day and for any occasion. Embrace your adventurous spirit and try a flight of their Irish Whiskies, Kentucky Bourbons, or Caribbean Rums! And if you love a deal, The Roost's daily happy hour takes place from 12 to 6 p.m. Early birds will find great cocktails at The Roost.
Gilbert's Resort
Indulge in a luxurious vacation experience at the tiki bar of this gorgeous resort and spa. Open for well over 50 years, Gilbert's knows how to do drinks right! With its waterfront dining, live music, and a thrilling selection of cocktails, you can enjoy much of what the resort has to offer as a bar guest.

Sip on a staff-favorite Coconut Mojito while basking in the sun and admiring the beautiful water views. Gilbert's seafood-forward menu has many options certain to satisfy your appetite - choose from light fares like salads and sandwiches, or go for big mains like grilled fish tacos and Churrasco steak.
Berlin's
Situated behind the famous A&B Lobster House, this classic speakeasy has been in business since the 1940s. A local favorite, Berlin's has earned a shining reputation for its stellar service, great atmosphere, and unforgettable drinks. Try specialty cocktails such as The Lady in Red or the Bluecoat Collins.

You can also discover a wide selection of craft beer, port wine, and sipping rum. As if jazz and cocktails aren't enough, you can also order delicious seafood from the lobster house. If you're looking for a special and indulgent experience, make sure you don't skip Berlin's!
Oasis Cay
For a relaxed and private experience, take your group to this poolside bar. This adults-only pool at the Hawks Cay Resort offers an exciting host of food and drinks. Take a refreshing dip in the pool while enjoying your favorites or trying something new - from their frozen Strawberry Daiquiris to their Tequila Agua Frescas, there's something for everyone. Snag lounge chairs for you and your beloved, or book a private cabana for a group. Oasis Cay is open Thursdays through Sundays from 11 a.m. to 6 p.m.
Sunset Pier
Enjoy all the exciting cocktails this pier bar has to offer at the pristine Ocean Key resort and spa. Scan their wide drinks menu for the perfect beverage to accompany Sunset Pier's beautiful waterfront views - the pina colada, rum runner, or their famous Sunset Margarita are all recommended. With a fabulous list of cocktails, wine, and craft beer, and you're sure to have a five-star time with your companions.

If you're feeling hungry, Sunset Pier has many food options. Made with the freshest ingredients, their unique local specialties are sure to please. How about trying their conch fritters, Sunset Pier Burger, or classic key lime pie? Whatever you choose, there's nothing quite like creating special memories together over drinks, dinner, and a vibrant sunset.
Schooner Wharf Bar
Situated on the waterfront, this warm and friendly wharf bar is an ideal reflection of the best that the Florida Keys can offer. With live music performances, amazing food, and great drinks, Schooner Wharf Bar is the perfect place to relax and enjoy a laid-back evening on the shimmering Key West waterfront. Create your own daiquiri or choose from five kinds of martinis or mojitos each!

Schooner Wharf Bar is also a great spot to enjoy exciting events in the community, like the upcoming Boat Races in November. All spectators of this thrilling event are welcome. Whether you're looking for a fun place for a guys' night out or a celebration with friends, you'll want to check out this bar on the Historic Harbor Walk.
Alabama Jack's
One of the most unique places to get a drink on the islands, this roadside bar has top reviews, local specialties, and a great atmosphere. Alabama Jack's is an off-the-beaten-path treasure that takes some effort to get to, but you'll be in good company amid friendly bikers and other adventurous types.

With a porch overlooking the water, this wonderful bar offers local specialties like grilled dolphin, crab cake sandwiches, and their unique take on conch fritters. With drink specials like Golden Margaritas and Parrot Breezes, you won't be bored at this roadside joint - just remember to bring mosquito spray! Alabama Jack's is open daily from 11 a.m. to 6:30 p.m.
Caribbean Club
Established in 1938, the Caribbean Club is one of the Keys' oldest dive bars. It's famous as the location for the classic film noir "Key Largo," as well as the more recent Netflix series, "Bloodline." With its warm and friendly atmosphere, this place is a favorite spot among tourists and locals alike. It's easy to see why: the service is excellent, the drinks are amazing, and there's no shortage of character.

With a deck right on the Florida Bay, you can enjoy a colorful cocktail of your choice under swaying palms and blue skies. There's nothing quite like watching the vibrant ocean sunset after a few glasses of their famous Key Lime Pie Rum Punch. Join the fun on Karaoke Wednesdays and enjoy live music all weekend. The Caribbean Club is a cash-only bar with an ATM on-site.
Sunset Grille & Raw Bar
With captivating views of the oceanfront and a profusion of palm trees, this multi-bar venue has it all: a heated pool to drink and dine by, multiple tiki bars, and a strip of sandy beach to walk along and enjoy a drink on. Located near the Seven Mile Bridge in Marathon, the Sunset Grille & Raw Bar also has a large oceanfront deck where you can enjoy supersized cocktails meant for sharing. Try the Fishbone Famous Titanic, served in a 48-ounce fishbowl!

Sunset's vibrant and lively atmosphere, as well as its enormous amount of indoor and outdoor seating, makes this venue perfect for a large get-together or an upcoming birthday party! Celebrate with your loved ones here while admiring beautiful water views. Every Sunday, party with their poolside DJ or take part in a cornhole tournament. Perfect for tourists and locals alike, there's no lack of things to do at the Sunset Grille.
Angler & Ale
Located in Duck Key, this gorgeous resort bar features dockside dining and amazing drinks. Like the poolside Oasis Kay bar, Angler & Ale is inside the luxurious Hawks Kay Resort. It's renowned for some of the freshest food in the Keys and offers inventive cocktails like the Admiral's Choice and Duck Island Tea. Aside from a fantastic cocktail menu, there are over 15 beers on tap — and many more bottled options — with a rotating tap beer of the month.

Opening days and hours may vary depending on the season. Reservations are recommended!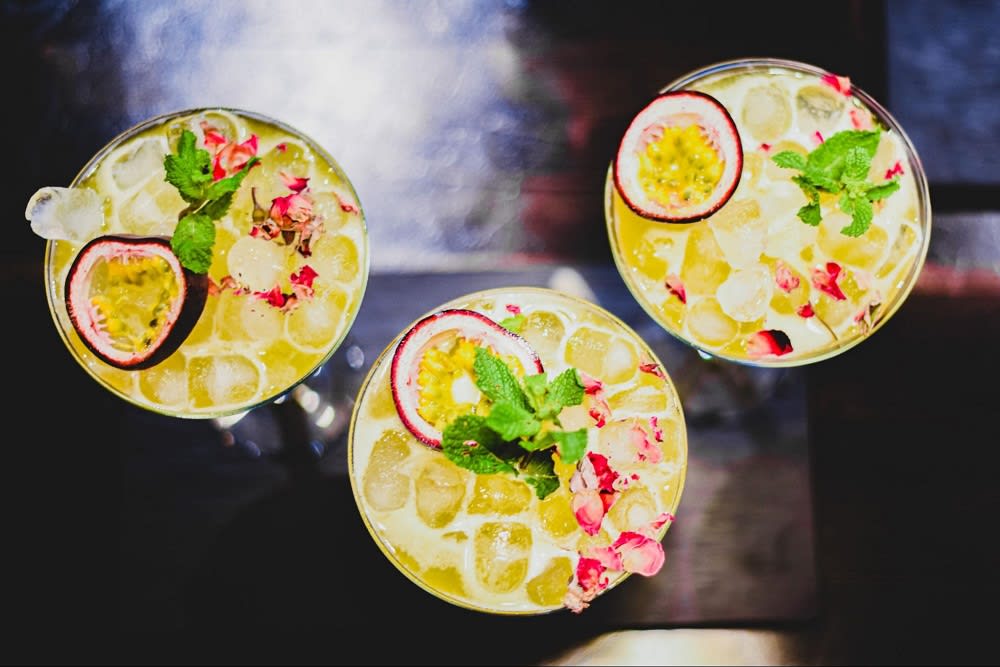 Are you interested in Florida Keys real estate? If so, contact Ocean SIR today. With decades of experience buying and selling homes in the Florida area, their professional team will walk you through your transaction start-to-finish and help you find your perfect dream home.